Holiday Transfers – Taxis and International Transport

Start your holiday on the right note by avoiding the hassle of finding an airport transfer once you've arrived at your destination. When you book in advance you can begin your holiday with the peace of mind that not only will there be transportation waiting for you when you arrive but that you've been able to shop around for the most reputable and competitively priced transfer!
Hoppa – Worldwide Airport Transfers

Who are Hoppa?
Hoppa provide a reliable airport transfer service in over 100 countries worldwide, providing a warm, friendly and great value for money service to over 7,000 popular holiday resorts and cities.
Services Offered:
There are a range of services available, and these can vary depending on the destination. You may need to jump on one of the shuttle services; a shared transfer solution suitable if the location is particularly popular or for those travelling in large groups, you can opt for a private shuttle or coach service.
Shuttles operate between the main airport gateways and official tourist locations, often running quite regularly. These services will be available in most popular holiday destinations and you can expect to find either a minibus or coach, depending on demand for each specific service. If you're on a skiing trip, for example, the shuttles will often be a large coach on a fixed schedule so make sure you let Hoppa know if there is any delay with your travel plans!
There are also private hire vehicles available with Hoppa, everything from a car through to a coach, depending on party size. You can be assured that travelling in a hoppa vehicle will add a little luxury to the start of your trip; their fleet is all under 5 years old, fully air-conditioned, and well maintained for your comfort and peace of mind. Find out more about Hoppa's services to ensure you've got all legs of your journey covered!
Train Travel Abroad

Although air travel often seems like the most straightforward way of getting to your destination, rail travel has benefits for those looking to explore the countries they're visiting on passing through and can turn the journey to your destination into part of your holiday.
Further travel options from and to the UK: Rail Europe.
Find inspiring connections with Rail Europe. You can catch a train across to Europe if you're not the keenest flyer or fancy a change. Trains depart from St Pancras multiple times a day (depending on your destination). For holidaying in places like Paris, the train online takes 2 hours 23 minutes!
St Pancras is 44 minutes away on the train and London Underground or 1 hour 50 in a car. Explore Europe, use their 'trip finder' tool to build your bespoke interrail holiday around Europe or simply compare prices with the nearest flights! Check out Rail Europe today.
Holiday Transfers

The majority of package holidays usually provide travellers with transportation to and from the airport. If this is not the case however you should ideally look at booking in advance of your holiday. As well as the peace of mind knowing you have a comfy taxi waiting for you at the airport will give you, organising your transfer ahead of your holiday can also save you money by avoiding the often inflated prices offered to unorganised travellers after landing.
It may seem like a daunting prospect; arriving at an airport in a country you've never visited before and then having to find the best transport option out of numerous possibilities that may be available at your destination.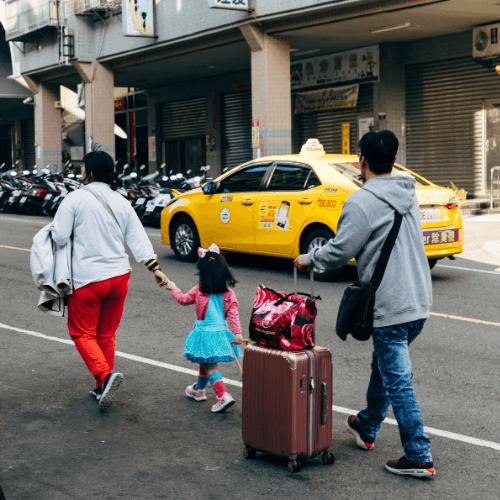 A mixture of both public and privately booked transfer options will usually be available from most international destinations, these may include taxis, trains, buses, international car rental or if you really like to travel in style a helicopter transfer! You may prefer to bypass the search for a transfer at the airport in which case you'll find booking in advance and having transport ready and waiting for you when you arrive a better choice.
Travel Money

Getting your travel money sorted before your trip whilst juggling your other holiday tasks can sometimes be a bit of a bother and you may not be getting the best exchange rate available. It may then be useful for you to know that there are a number of different ways for you to purchase your foreign currency. Our travel money page has more information on the different options that would best suit your needs.