National Express cover 98% of the UK including local stops in England, Wales and Scotland. They run services that can take you to and from Gatwick Airport throughout the day.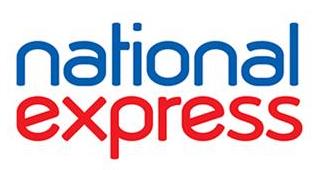 They are also often running special offers or discounts and are one of the cheapest ways to get around. With cheap tickets on clean, comfortable and prompt coaches and friendly drivers, it's a wonderfully affordable way to travel. In the future, you may even want to consider taking one of their coaches to your next European destination!
Using a dedicated coach service from National Express means that you will also save money on driving costs such as fuel and parking. This way you will be dropped of at the terminal door!
Your friendly driver will help you with your luggage while you board and make your way to your clean, comfortable and spacious seat.
National Express
coaches
also have onboard washrooms
and have been designed to make your journey as comfortable and relaxing as possible.
Destinations & Departure Points
Whether you are looking to get between Gatwick airport and Heathrow or further out locations like Manchester, you will find a coach to suit your particular journey requirements at a great price!
A dedicated shuttle direct transfer between Gatwick and Heathrow is available at £25 for a one-way journey. A return ticket of this service is offered at a slightly discounted £20 return. National Express offers the only direct airport connection and links all the four major London airports, Gatwick, Heathrow, Luton and Stansted airports. They operate 100 services a day between Gatwick and Heathrow which takes around 1 hour.
There are many local stops which you can book to and from, but some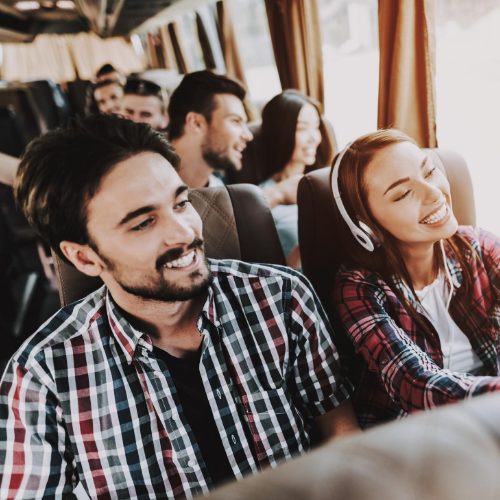 of the main destinations and departure points and the duration of the journeys are shown below.
Where to find National Express at Gatwick Airport
Pick up and Drop Off
Pick up and drop off points at Gatwick airport depends on the terminal you are arriving at or departing from. Please see below for pick up and drop off points at both the North and South terminals.
North Terminal:
Coach services arrive and depart from the lower level outside the international arrivals area.
There is a National Express coach ticketing office inside the terminal at international arrivals.
You can connect to the South Terminal easily with the free monorail transit train service which is clearly signposted from around the terminal.
South Terminal:
Coach Services will arrive and depart from the lower forecourt at stops 16 & 17.
There are ticket offices located in the arrivals travel centre and in the upper forecourt area.
You can connect to the North Terminal on the free transit train service which is clearly signposted.
Discounted & Concessionary Coach Fares

If you qualify for one of the three discount cards available from National Express, you'll benefit from 1/3 off of your fare, with no restrictions on your travel, even on Bank Holidays. Check below to see if you qualify.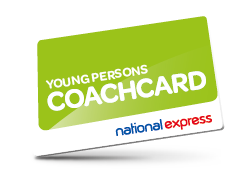 If you're: aged 16-26 or in Full Time Education you qualify for a card
Cost: £12.50 for the year or £30 for 3 years. They are currently offering 50% off to students too, so make sure you purchase a card before you go off to uni!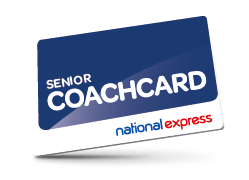 If you're: aged over 60 you qualify for a card.
Cost: £12.50 per year. Benefit from £15 day return journeys on Tuesdays, Wednesdays & Thursdays!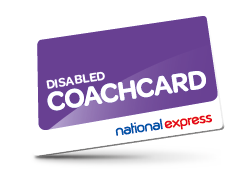 If you're: Registered disabled you qualify for a card
Cost: £12.50 per year.
Reduce Your Carbon Footprint by Coach
Travelling by coach has been proven to be one of the most environmentally-friendly forms of public transport. National Express are very proud that they are helping people to cut down on their carbon footprint and want you to join in with cutting down the UK's carbon emissions, so have created an emissions calculator to enable you to see how big your carbon footprint is and how much you can cut that down by travelling by coach!