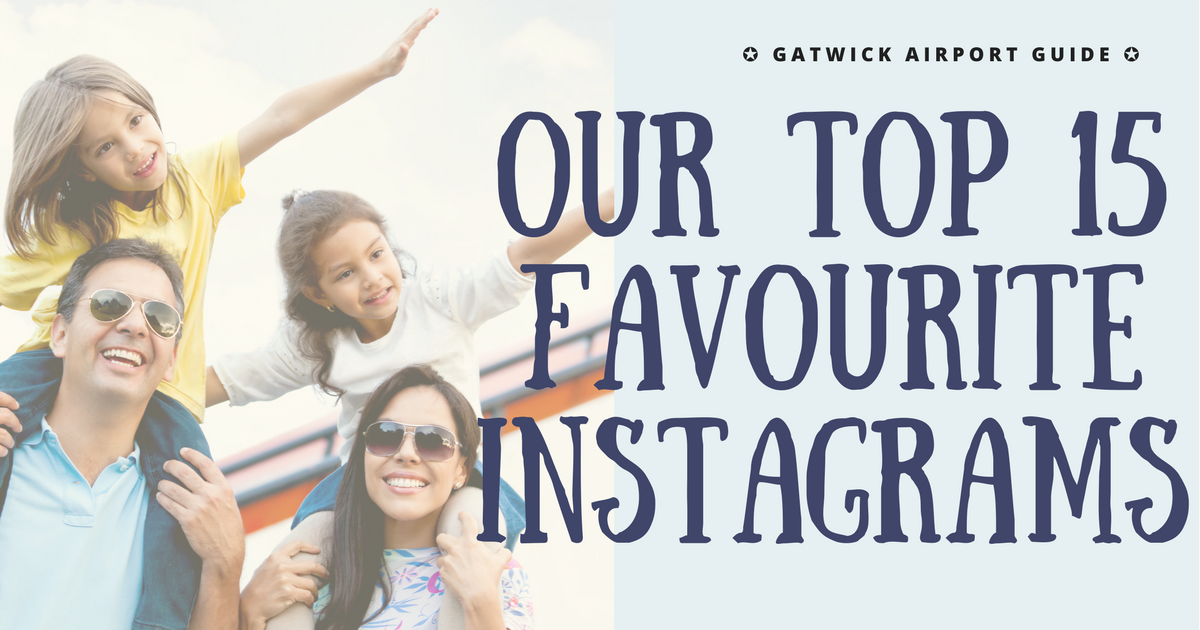 Here are our top 15 posts on Instagram in or around Gatwick Airport… there was loads to choose from but we hope you agree with our choices.
From celeb-spotting to cheeky kids, we've got it all!

#15: Never a bad time for Bake Off…
In the words of Mary Berry, "he loves his buns".
Here's @garretkeogh catching up with Noel and Sandi on Channel Four in true British style at Gatwick Airport.
#14: Fish(ing) and Chips… literally
There's fishing for your dinner, and having fish for dinner…
Here's @staples2323 and the family doing a bit of both!
Check out the Bars and Restaurants at Gatwick Airport with our Foodie Guide.
#13: Pugs on a plane!
Who better to have as your travel companions than Double and Trouble?
But don't worry, they're not stow-aways, Norweigan Air let's you take small pets into the cabin from £55! @elenabowes is making use of the pug-transport options and it is beyond cute!
We hope they enjoyed their flight! (Bork!)
#12: Boarding passes at the ready
We love this slightly sepia-filtered checklist of everything you need in your hand luggage.
Euros, check.
Passport, check.
Instagram-ready, check.
#11: Take your kids to work… halloween style.
When Bugs Bunny is a member of your easyjet crew and Batman has an element of Elton John… you know it's going to be a good day at Gatwick Airport!
Big thanks to @clintskeeey for this one. Spooky.
#10: "Unexpected item in the baggage area": spotted on Instagram
Someone looks excited about their holiday! We love this cheeky monkey trying to squeeze into hand luggage.
She's just adorable!
Here's the on site facilities for keeping cheeky monkeys (and kids) entertained before flying.
#9: Not for the faint-hearted
This video introduces Gatwick's new line of rollarcoasters – just joking! It's the inter-train connection between Gatwick Terminals in a very fancy time lapse. Thanks @beckysebo.
(click to play)
#8: Keep an eye out for tooth-fairies flying at Gatwick Airport
Congratulations to @peaceluva and co. for a mega first at Gatwick!
Let's hope the tooth-fairy makes a safe landing and shares some magic fairy dust with us all.
Very happy flying.
#7: Brushing up with the stars
Here's the very lucky, @leonardojervis checking in Made in Chelsea star Oliver Proudlock and model Emma Connolly for their flight. The famous couple are big in the fashion world – what a day to have a work.
Jealous doesn't even cover it.
#6: What a place to lose a USB
Other than being an incredible shot, very urbane-chic, it's hard not to love the comments on this one.
@hobber1973 – "Why you at the airport??"
@funkyphotos – "Looking for a USB stick"
We've all been there, right?
#5: Good Night Gatwick
After a long-old shift working in the sky, @will_m535 caught the sunset behind the plane.
#4: Two little Insta-Queens sitting in a row
How can you not love this magazine style shot of two little travellers?
Millenial coloured suitcases, high saturation, matching jim-jams – it's on point! 10/10, thanks @mummydaddyme.
#3: Eastenders has nothing on this
This Instagram posts shows London at night in a mass of black and golden dots and it's just magical. You can even see Tower bridge lit up across the river!
#2: Do we need to say more?
Yes, Gatwick has won Loo of the Year. And yes, there is a shrine to honour its great accolade.
Aka, a golden toilet, as discovered by @tom_farmery. #toilethumour indeed!
#1: Passport Snapsies!
If you look closely, you can see these passports are all from different places… Canada, Norway, UK, Italy, Poland, American…
All getting together for Model United Nations in Switzerland! How often do you get to see such a colourful array of national passports? Thanks @damianharateh, great share!
Get to know Gatwick Airport's flight departures and arrivals, explore our Guide for live up to date info.
If you've taken a better shot than our Top 15, then get in touch with the comments below! #gameon